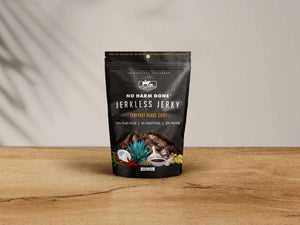 Teriyaki Agave Chili
Sale price Price $11.99 Regular price $11.99
100% Non-GMO plant based jerky marinaded for 12 hours in our signature house made teriyaki sauce. Hints of caramelized garlic, ginger, and chili, then topped with black & white sesame seeds, this delivers a flavor explosion you have never experienced in any other jerky.
Shipping Fresh Jerky ... on Tuesday's
For nationwide shipment, we ask that you place your order by Thursday @ noon PST. Your order will ship on the following Tuesday. If you miss the Thursday cut off, your order will be shipped a week from the following Tuesday. Shipping this way allows us to make sure you are receiving the freshest tasting jerky possible.
The Ingredients
Textured vegetable protein (soybean protein, starch, wheat protein, vegetarian fiber, soybean oil), tamari soy sauce (water, soybeans, salt, sugar, alcohol, vinegar, lactic acid) refined coconut oil, raw agave, soybean oil, white sugar, brown sugar, sesame seeds, sesame oil, ginger oil, dried onion, apple cider vinegar, garlic, red pepper flakes, tartaric acid, ginger, cornstarch, white distilled vinegar, garlic powder, gochugaru pepper flakes, onion powder, organic ginger root powder.
Contains: Wheat & Soy
The Facts
4 servings per container
Serving size 1oz (28g)
Servings Amount %DV *
* The Daily Value (DV) tells you how much a nutrient in a serving of food contributes to a daily diet. 2,000 calories a day is used for general nutrition advice.
Customer Reviews
Yum!
I sent this jerky to my sister (who is vegetarian) in Idaho. It arrived on time and they LOVED it!!!
12/21/2022
Kathryn M.

United States
Delicious!
I loved both flavors, they are so good! Amazing texture and taste. I will definitely continue purchasing. Thanks for making such a delicious vegan product!
03/10/2022
Brian B.

United States
Delicious!
Just opened the bag (great packaging) and ate it all in one sitting. I eat meat, so wasn't sure what to expect from a meatless jerky. Was amazed at how delicious this was! One of the best jerkies I've had!
10/14/2021
Ashley L.

United States
Dreaming of Jerky...
As a full-time traveler, the hardest thing is timing my jerky deliveries so I can get them all across the country! This is my favorite flavor - I'd love to have this constantly stocked in our kitchen!
04/06/2021
Bernadette W.

United States
Best Vegan Jerky Ever!
This Jerky is so amazing, I literally hide it from my family so I don't have to share!
03/29/2021
Dan S.

United States
Yum
Great product, great flavors.
03/23/2021
Sarada R.

United States
Awesome
Best jerky I've had.. my kids love to eat it plain or I've even chopped it up and made fried rice with it! Yum!
03/09/2021
Lindsay o.

United States
I would give it more stars if I could
While I love them all, the agave chile flavor is my fave flavor! Sooooo good!
03/09/2021
LaChaun H.

United States
Unexpected DELICIOUSNESS
I was skeptical but pleasantly surprised at the amazing taste AND texture of this jerky! I was looking for a yummy snack and this is it. Glad I bought both flavors because they both are delicious.
03/02/2021
Family L.

United States
Absolutely love this stuff!
This stuff is the bomb-diggity. My husband appreciates good meat every once in a while, and he lives in a houseful of vegan ladies. And this is something EVERYONE loves. That, my friends, is my only complaint. This bag literally doesn't last A DAY in our home. So as soon as I post a review, I need another order - how about a weekly subscription plan! ;-)
02/24/2021
Leslie H.

United States
Delicious
My friend recommended this jerky to me. I absolutely love it! Can't wait to order more.
02/16/2021
Janene E.

United States
Yummy Teriyaki Agave Chili
This Jerkless jerky has a nice amount of spice and great flavor
02/16/2021
Traci S.

United States
Best Vegan Jerky
My experience has been great! I ordered a subscription & one of my friends places and order after I told her about it! I also posted about it on my Vegg.heads Instagram page! Great product!
02/05/2021
Stacey T.

United States
EDC Jerky. Don't leave home without it.
My friends at Blackberry Creek Farm Sanctuary recommended Jerkless Jerky and I'm SO glad they did. I've tried lots of plant-based jerkies out there and this is definitely the best. As someone that participates in high energy demand sports and tactical rescue, Jerkless Jerky is definitely an everyday-carry essential now. Stock up!
01/20/2021
Jolene C.

United States
BEST. JERKEY. EVER.
This jerkey is incredible! I've been vegetarian most of my life and have tried everything on the market and nothing comes close to this. So flavorful and the texture is perfection. I just ordered 5 more because I want it to have as a snack and to maybe put in my salads. Get some, you won't regret it!!
01/04/2021
Danielle H.

United States
Our Favorite Jerky!
We run a farm animal sanctuary and are always on the lookout for amazing jerky to share with our supporters who love cows and pigs and don't want to eat them. Jerkless Jerky is by far the best we've had! Its incredible taste and texture are going to revolutionize the plant-based jerky market and make a positive impact for animals.