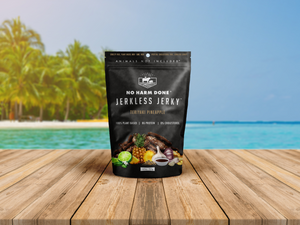 Teriyaki Pineapple
Sale price Price $11.99 Regular price $11.99
100% Non-GMO plant based jerky marinaded for 12 hours in our signature house made teriyaki sauce. Hints of lime and caramelized pineapple gives a sweet and savory combo.
Shipping Fresh Jerky ... on Tuesday's
For nationwide shipment, we ask that you place your order by Thursday @ noon PST. Your order will ship on the following Tuesday. If you miss the Thursday cut off, your order will be shipped a week from the following Tuesday. Shipping this way allows us to make sure you are receiving the freshest tasting jerky possible.
The Ingredients
Textured vegetable protein (soybean protein, starch, wheat protein, vegetarian fiber, soybean oil), tamari soy sauce (water, soybeans, salt, sugar, alcohol, vinegar, lactic acid) refined coconut oil, dried pineapple (pineapple, sugar, citric acid) white sugar, brown sugar, raw agave, sesame seeds, sesame oil, soybean oil, lime juice, ginger oil, dried onion, apple cider vinegar, garlic, tartaric acid, ginger, cornstarch, white distilled vinegar, garlic powder, onion powder, organic ginger root powder.
Contains: Wheat & Soy
The Facts
4 servings per container
Serving size 1oz (28g)
Servings Amount %DV *
* The Daily Value (DV) tells you how much a nutrient in a serving of food contributes to a daily diet. 2,000 calories a day is used for general nutrition advice.
Customer Reviews
02/01/2023
Taya G.

United States
My favorite snack!
It's always a good day when my jerky subscription arrives! I have to pace myself not to eat it all the same day, and my 5 year old agrees! Wonderful flavor, great texture, couldn't ask for more.
04/30/2022
Mychale O.

United States
So good !!
So yummy I didn't want to share!
03/23/2022
Michael S.

United States
Teriyaki Pineapple Jerkless Jerky
Best plant based jerky ever, very moist and tasty. Delivery took longer then expected but worth the wait.
12/06/2021
Clint H.

United States
Jerkless Jerky
Absolutely delicious!
11/29/2021
Matthias L.

United States
A New Snack Staple
I absolutely love this stuff. The texture is perfect, like the real thing, and the flavor is incredible. I always have some on hand now. Both for me and to share with carnivore friends who think that Vegan means cardboard.
09/29/2021
Penny H.

United States
AMAZING!!!
How can anyone NOT love this! I am a jerky lover and pretty tough to please. This is perfect!
09/22/2021
Charlotte F.

United States
So tasty!
Best jerky texture and taste! Love it!
08/17/2021
Lisa D.

United States
I could have eaten the whole bag in one sitting!
Delicious! Great flavor, great texture (chewy without being difficult), and was just "meaty" enough. Will buy again!
07/21/2021
Ruthie J.

United States
Highly recommend
I was expecting it to be good, but it was really, really good. I would not know it wasn't meat if no one told me. Flavor was absolutely delicious. Highly recommend.
06/08/2021
Cori D.

United States
Best Vegan Jerky I've Found!
I've been vegetarian for 10+ years and am always looking for a good jerky replacement but never found one I loved until now! Genuinly super happy with this product and already recommended it to all my vegetarian/vegan friends.
05/14/2021
Gloria B.

United States
So good!
Best vegan jerky I've had!
05/02/2021
Nabeela S.

United States
No Harm Done/jerkless jerkey
Excellent. The combination of sweet and salty makes it a very satisfying snack.
04/20/2021
Kevin A.

United States
Love this product
Amazing jerky! Arrived fresh and well packaged. Great company!
03/29/2021
Lea U.

United States
10 outta 10 would recommend
Let's start by saying that a favorite snack of mine growing up was beef jerky I would make with my pops before we headed out into the backcountry. I happily became vegetarian 20 years ago and gave up on that being a flavor or texture I'd get to enjoy again- until nowwww! Thanks for creating a delicious plant based replacement!! The flavor and texture are on point and so dang good.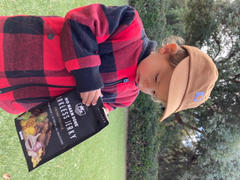 03/16/2021
Harry S.

United States
Review
Excellent!!! Great snack
03/09/2021
Lindsay o.

United States
Buy it now!
This is hands down the best jerky I've ever had. You will not be disappointed!